Man Ray
Philadelphia/Pennsylvania 1890 - Paris 1976


Man Ray, born Emmanuel Radnitzky on 20th August 1890 in Philadelphia, was the most well-known representative of avant-garde photography in 1930 and is regarded as a pioneer of Surrealist photography. His work is extremely eclectic - as painter, object artist, film maker and photographer, he is part of the Dada and Surrealist movements.
Man Ray was the first artist whose photographs were more valuable to collectors than his artistic/pictorial work. He thereby made an important contribution to the re-evaluation of photography as an art form. His photograph "Noire et blanche" (1926) was auctioned by Christies in 1998 for a record sum of $550,000.
From 1897 Man Ray lived in New York. He took art evening classes, from 1911 worked as a map illustrator, and also began painting and sculpting. In 1921 he moved to Paris and met the Surrealists. Man Ray the photographer was self-taught. He earnt money with reproductions and portraits of his artist friend. By 1922 he had opened his own studio and was elevated to the role of official photographer of the avant-garde. From 1919, Man Ray experimented intensively with photographic techniques (Sandwich montage, double exposure, photo collage).
In 1921 he created his first photograms ("Rayographs" "Rayogrammes") and exhibited his first photographs. He also met Alice Prin alias "Kiki", who became his lover and muse and who posed for "Noire et blache" and "Le Violon d'Ingres".
From 1922, Man Ray also worked as a fashion photographer for "Vogue", and "Vanity Fair", amongst others. He made photographic character studies of great cultural figures of the time, such as Joyce, Proust, Picasso, and Matisse. Berenice Abbot and Lee Miller studied photography under Ray's tutelage, and in 1929, he began a relationship with Miller, with whom he explored the photographic technique of solarisation.
In 1940 Man Ray emigrated to the USA, and thereafter gradually lost interest in photography. His work was recognised and won awards in various exhibitions (including "Gold Medal for Photography" in the 1961 Venice Biennale, The DGPh cultural award in 1966). In 1946 he married Juliet Browner with whom he returned to Paris, where he lived from 1951 until his death on November 18th 1976. The epitaph on his gravestone reads "unconcerned, but not indifferent".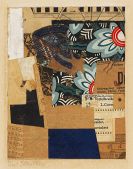 Kurt Schwitters
Uviolett
44,400 $
Details

Edgar Ende
Begegnung
33,300 $
Details